CAVIAR WITH TRADITIONAL ACCOMPANIMENTS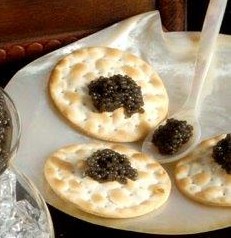 2 eggs
2 tablespoons of finely chopped parsley
1 large red onion, very finely chopped
4-5 teaspoons caviar per person
2/3 cup sour cream
1 lemon, quartered (optional)
Put the eggs in a saucepan of cold salted water. Bring to a boil, reduce heat and simmer for 10 minutes, then drain, cool under cold running water and drain again. Set aside.
Shell the eggs and carefully remove the yolks. Chop both whites and yolks finely, keeping them separate. Arrange the hard-cooked egg whites, yolks, parsley and onion around the rim of four individual plates, leaving the center free for the caviar, which should be added just before serving. The sour cream may be put on the plate or passed around in a bowl. If you want, add a lemon wedge to each portion.
Pass around a basket of toast points or warm blinis, allowing several for each person.
Serves 4
---
SCRAMBLED EGGS WITH CAVIAR
2 tablespoons butter
6 eggs
1 generous tablespoon heavy cream
4 teaspoons caviar
salt and pepper
Heat four ramekins in a low oven. In a nonstick saucepan, slowly melt the butter. Place the eggs in a bowl with seasoning to taste – add salt sparingly, as the caviar will be salty. Whisk until frothy, add to the pan and increase the heat slightly. Stir with a wooden spoon until the eggs begin to thicken. Then, add the cream. Remove the pan from the heat, still stirring to obtain a thick, but creamy consistency. (Adding cream at the end of cooking, stops the eggs from becoming overcooked and solid). Transfer to the warm ramekins. Top each portion of scrambled eggs with a teaspoon of caviar just before serving. Serve with hot, crisp white toast.
Serves 4
This makes a delicious brunch dish or dinner party appetizer.
---
CANAPÉ'S
Caviar on canapés is fun and versatile. It can be as impressive or as simple as you wish. Have fun with it!
---
SMOKED SALMON AND CAVIAR
Slice across enough smoked salmon fillets and then shape the fillet portions into circles or mini-cones on toast. Pipe a little whipped heavy cream on top and add a small spoonful of caviar.
---
LOBSTER TAIL WITH CAVIAR
Cut a cooked lobster tail into slices. Lightly toast as much white bread as you need and cut it into rounds with a small pastry cutter. Place a slice of lobster (or two) on each toast round. Top with a few grains of caviar.