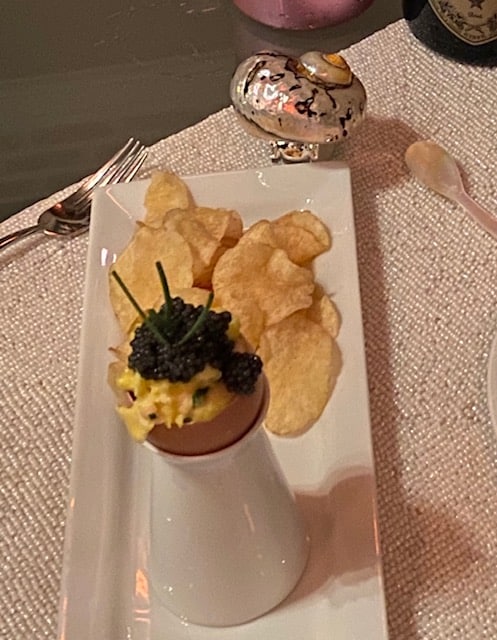 SUBMITTED BY: Cyd Swerdlow,
INGREDIENTS:
1 – 7 oz. tin of Kelley's Katch Paddlefish Farmed Caviar
6 – jumbo brown eggs
1/8 lb. finely chopped Scottish Salmon
3 T. Creme Fraiche
PROCEDURE:
Whole chive stems for garnish.
Using an egg topper (I purchased mine from Sur La Table) remove the tops of the eggs and pour the raw eggs into a bowl. Carefully rinse the inside of the egg shells and remove the membrane that lines the egg shells. Reserve the shells in a safe place. (This is the hardest part of the recipe.)
Whisk the eggs. Season with fresh cracked pepper. Salt is not necessary as the salmon and caviar will add savor.
Melt a teaspoon of butter in a sauté pan and pour the eggs into the pan. Over medium-low heat, gently stir the eggs. When they are starting to come together, add the smoked salmon. Gently add the creme fraiche to the scramble. The eggs should still be fairly soft in the end, so you will need to work quickly.
Using a small spoon, fill each eggshell with the scramble and top with a large dollop of caviar. Garnish with the chive stems.
Serve with potato crisps.