SUBMITTED BY: Ken Shapiro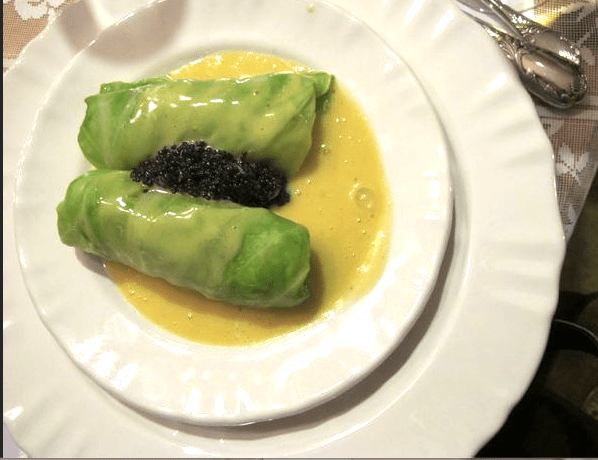 INGREDIENTS:
Cabbage
8 – 3 oz Lobster Tails
1oz Chopped Shallots
1 Tablespoon White Wine Vinegar
2 Tablespoons Fish Stock or Clam Juice
2 Sticks cold butter
Salt
Pepper
Cayenne Pepper
PROCEDURE:

Bring two quarts of water to a boil.
Place one head of cabbage in the water. After two minutes in the boiling water, remove the cabbage and place it in ice water.
Remove the first 8 outer leaves of the cabbage.
Wrap 8 3-ounce lobster tails in each leaf.
Set aside.
Make the buerre sauce…you need 1 ounce of chopped shallots, 1 Tablespoon of white wine vinegar,
2 tablespoons of fish stock or clam juice, 2 sticks of very cold butter cut into 15 pieces, salt and pepper and a pinch of cayenne.
Put the shallots, vinegar, and clam juice in a 5×5 and reduce by half.
Add the butter, three pieces at a time, whisking constantly until all the butter is incorporated.
Heat oven to 475. Dot the lobster cabbage rolls with some butter and bake for 8 minutes
remove from oven..
Place two rolls on each plate, cover with beurre sauce, and put a hefty tablespoon of Kelley's Katch Caviar on top.
It will be a dish to be remembered.